One of the more common post-graduate celebrations is a trip. Whether that journey is cross country, international, or upstate, here are some Grommets to prep your graduate for their getaway.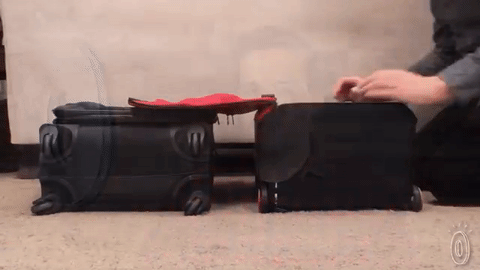 A Shrinking Suitcase
Recent grads are known to live in small quarters, and this collapsible multi-feature suitcase folds down flat to store. But this smart suitcase is more than a disappearing act. When it's full-size it can charge your phone, has a 360 degree rotating handle to avoid wrist discomfort, has a pull out laptop desk, and contains a laundry bag and two shoe bags. 
Passport Protector
These minimalist wallets keep cash, cards, a boarding pass, and passport in one RFID protected vegan leather wallet. Founded by UCLA alum Steven Ng, they are grad tested and approved. If you want to make a trip easier, this is a perfect place to start.
A Mobile Bureau
After a trip, the inside of a suitcase or backpack always looks the same: like it was hurriedly packed before an emergency getaway. With this travel organizer, luggage can be neatly organized in a portable, mesh dresser. It even hangs up so travelers can make themselves at home no matter where they are.
Sophisticated Travel
Nothing ruins a trip like spilled cosmetics and toiletries. The elegant makeup and jewelry cases from Boulevard solve that problem. The Delilah unfolds into detachable compartments and hangs up to provide sink space. While the Zoe carries jewelry with cushioned care. 
The Traveler's Toolbox
The rugged, hard-shelled dopp kit from Tooletries keeps toiletries—especially electric ones—safe with silicone netting that ensures everything inside isn't flying around. Flying around is your graduate's job. 
A Global Plug-in 
Let your graduate plug in electronics and charge devices—in over 150 countries—with a single, virtually universal travel adapter. With a simple twist, the aptly named Twist travel adapter transforms into the right outlet configuration and lets you power four devices at once.
A Tough, Organized Backpack
This work and travel travel bag has the space, waterproof exterior, heat-sealed zippers, and ventilated shoe compartment to handle a day trip or weekend getaway. It also makes for a perfect commuting bag for that new job. Each is built for organization with a simple, modern design.
A Cartography Checklist
Once your weary traveler returns home they'll follow a familiar routine. They'll unpack their now unbelievably organized suitcase, fold that suitcase down and tuck it away, and shuffle through the hundreds of photos they took. Add another step to that routine with this personalized travel map. Framed and mounted on a foam core, the personalized, pinnable map lets your grad commemorate past adventures and map out the next one. It also makes for a great decorative piece.  
Looking for more? Check out these gifts for grads.